Project X: Across Media
Concepts, Creativity & Cohesion
June 4th to July 9th
6 weeks: Tuesdays, 10:00AM to 2:30PM
Instructors: Lon Clark and Laura Harden
Location: Fort Mason Center, Building C, Room 210
Levels: All Levels
Media: Painting, Photography, Mixed Media, Photomontage, Pastel, Drawing or other two-dimensional mediums.
Tuition (non-refundable): $825 due May 24th


In this 6-week course we are paying particular attention to the expressive potential in individual, student-defined projects. Emphasis can range from conceptualizing and producing the very first stages of a project, to expanding a work in-progress, or bringing a body of work to its final state. The scope of a project can be small or large and diverse media is welcome. The work will be unified by a course structure designed to support and enhance each person's immersion in visual art. The goal of the course is the definition and bringing together of a particular stage of the work by the end of the semester. Individual participants will be aided in the clarification of his/her intent and given support with technical issues. Creativity and experimentation will be encouraged. Class sessions will include presentations, critiques, discussion and hands-on exercises based on topics of mutual relevance.

Please email with any questions about materials and locations. A complete supply list and meeting times/locations will be provided upon registration.
Email info@sfstudioschool.org or call 415-398-4300 to register.
The dictionary says a project is "an individual or collaborative enterprise that is carefully planned and designed to achieve a particular aim." That gives us a start, but it doesn't describe the curiosity, creativity, cohesion or the ultimate clarity a project can offer a visual artist... CLICK TO READ MORE.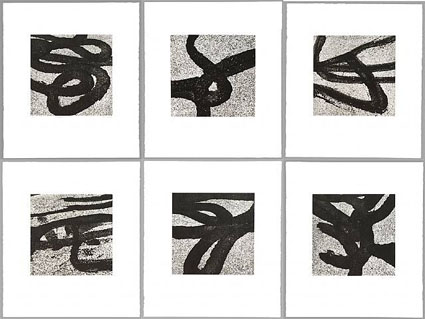 Aaron Siskind, Road Tar